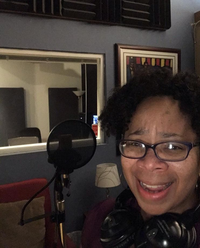 How are ya'll doing during these crazy times? The holidays are usually my FAVORITE time of year, but this year is very gloomy. You may have noticed that me and the fellas have been noticeably absent from StageIt and from and from my IG, and that's because we have been busy at Love & Laughter studio to complete my album project, and also because of individual projects.  There are two songs that I have not shared with ya'll yet and I can't wait for you guys to hear the finished project! I will have another Guitar Recess short video soon as well. I have switched to taking lessons through Kerry "2 Smooth" Marshall's Kerry's Kamp. I love that R&B, Neosoul vibe and wanted to focus more on the sounds I wanted to produce.  If you are interested in learning that style of guitar I encourage you to sign up or at least try the freebies (I like structured instruction though). So with that said, I wish you all a Merry Christmas and am praying that 2021 will bring greater love, light and energy.  Thank you for your support of us and I hope you will enjoy the forth coming EP from Acacia Grace!
One last thing: I added a chat function in the Contact area in case there are quick questions you want to ask.  Also, please note that we will not be taking any private bookings until mid-January.  
I wish everyone a wonderful Christmas and a Happy New Year. It's been hard on us all but we are in this together!